Deep Dive: How Custom Laundry RFID Tags Work
In the context of modern laundry management, custom laundry RFID tags have become a leading technology, bringing unprecedented benefits and intelligence to laundry facilities. So, let's take a closer look at it and how they work.
What are custom laundry RFID tags?
Custom laundry RFID tags are based on radio frequency identification, a technology that uses radio signals to identify and track objects. These tags were developed specifically for laundry facilities to identify and manage fabrics and fabrics within them. Each tag consists of a tiny chip and an antenna for storing and transmitting data. Most importantly, these labels can be easily attached to the fabric without any adverse effect on the appearance and use of the fabric.
Composition of customized laundry RFID tags
Every custom laundry RFID tag is made up of several key parts:
Chip (Chip): The chip is the core of custom laundry RFID tags. It stores information about the fabric, such as type, size, usage, etc. The chip can communicate with external devices and transfer data stored in it.
Antenna (Antenna): The antenna is closely combined with the chip for receiving and sending radio signals. The antenna enables communication with external devices when the tag is exposed to a radio frequency range.
Encasing: Encasing protects the chip and antenna, enabling the tag to withstand environments such as washing and drying
How does it work?
Tagging and programming: First, each piece of cloth is affixed with a custom laundry RFID tag. Previously, tags might have been pre-programmed to contain details about the fabric, such as type, size, use, etc.
Identification signal: When the customized laundry RFID tag is within the radio frequency range, such as washing machines, clothes dryers, conveyor belts, and other equipment, it will receive the radio frequency signal and obtain the required energy from it.
Data transmission: After the tag is powered on, it responds to the device and transmits the data stored in the chip back. This data may include information such as unique identifiers, fabric conditions, cleaning history, etc.
Integration and management: The management system of the laundry facility receives and interprets the data transmitted by the tags. This data can help facility managers accurately track each piece of fabric's location, cleaning status, history, and more.
Wide Application Fields of Customized Laundry RFID Tags
Custom laundry RFID tags are a versatile technological innovation with applications covering many industries. These labels improve efficiency, accuracy, and customer satisfaction by providing intelligent fabric management solutions. Following are some major application areas of it:
Hospitality Industry: Hotels need to manage large quantities of linen items such as bed sheets, towels, napkins, and curtains. It can help hotels track the location and status of each item, ensuring room preparation is efficient and accurate. In addition, tags can help hotels more easily verify the integrity of items after a customer checks out.
Healthcare: Hospitals and medical facilities need to manage large volumes of fabric such as hospital sheets, surgical gowns, towels, etc. By using it, healthcare facilities can track the cleaning history of each piece of fabric, ensuring that the fabric always complies with hygiene standards. In addition, labels help reduce the risk of cross-contamination of fabrics.
Catering: Restaurants and catering establishments need to manage kitchen linen such as chef gowns, aprons, and napkins. It can help the restaurant industry manage and track these fabrics, ensuring they maintain hygiene and quality. In addition, tags can help food and beverage establishments better control fabric inventory and usage.
Aviation Industry: Airlines deal with a large volume of fabric items such as aircraft seat covers, blankets, and pillow covers. It can help airlines track and manage these items, ensuring they are always clean and comfortable. Tags can also improve customer satisfaction and ensure passengers receive high-quality service while flying.
Fitness Centers and Sports Complexes: Fitness centers and sports facilities require the maintenance of a large number of sports clothing, towels, and equipment kits. By using it, athletic centers can better manage and distribute these items, providing a better member experience. Labels can also help track the cleaning history of the equipment, ensuring it remains hygienic and safe at all times.
In general, the application fields of custom laundry RFID tags are very wide; not only can they be applied in industries such as hotel, medical, catering, aviation, and fitness, but also they can play an important role in other fields that require efficient fabric management. These labels provide a smarter and more efficient fabric management solution for various industries, bringing multiple benefits to the business.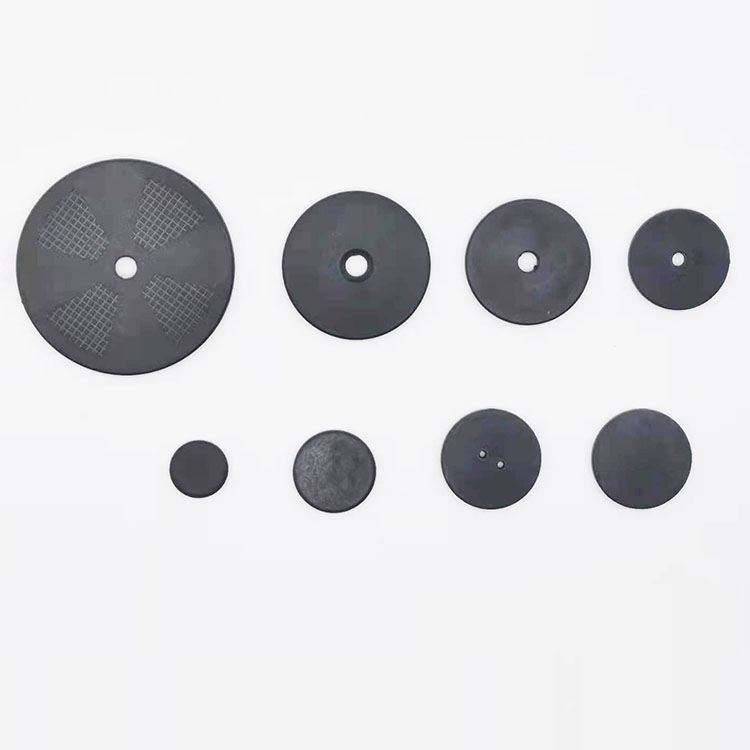 Benefits of Custom Laundry RFID Tags
Custom laundry RFID tags are a revolutionary technology in laundry management, bringing multifaceted benefits to laundry facilities. Here are some key benefits of it:
Automated Fabric Tracking and Management: Custom laundry RFID tags automate the tracking and management of fabric. Each piece of fabric is uniquely tagged and can be tracked throughout the wash cycle, from entering the facility to being washed, dried, and dispensed without human intervention.
Increased Efficiency: Automated tracking of tags improves the overall efficiency of laundry facilities. Fabrics no longer need to be manually sorted and recorded, saving a lot of time and human resources, thus making the washing process more streamlined.
Reduced error rate: Custom laundry RFID tags reduce the occurrence of human error. The automatic identification and data transmission of the labels reduces the risk of confusion and wrong deliveries, ensuring that each customer receives the correct fabric.
Real-time data support: Laundry facility managers can get real-time data about each piece of fabric, such as location, cleaning status, and history. This makes management decisions more accurate and timely.
Improved Customer Satisfaction: By using custom laundry RFID tags, laundry facilities can provide faster, more accurate, and high-quality service. Customers can trust that the fabric they receive is clean, correct, and of a high standard.
Reduce Loss and Loss: Lost and damaged fabrics can be more easily tracked and reduced thanks to the tracking capabilities of it. This helps control costs and improve facility efficiency.
Enhanced Hygiene Standards: In areas such as the healthcare and catering industries, it can track the cleaning history of fabrics, ensuring that fabrics always meet hygiene standards.
Improved resource utilization: With the help of it, laundry facilities can better manage and distribute fabrics, maximizing resource utilization.
The benefits of custom laundry RFID tags include increased efficiency, accuracy, and customer satisfaction, reduced error rates and losses, improved hygiene standards, and revolutionized changes in various industries. Whether hospitality, healthcare or otherwise, it brings a whole new level of intelligence to laundry management.
Custom laundry RFID tags have many compelling advantages. They can automatically track and manage fabrics, increase efficiency, reduce error rates, and provide real-time data and precise information to laundry facilities. Whether in hospitality, healthcare, or other areas where efficient fabric management is required, it can provide a significant improvement to the business. From smarter operations to higher levels of customer satisfaction, these tags take laundry management to a whole new level. In an increasingly competitive market, it is not only a symbol of technology but also the future of the laundry industry.
Related Products